REX
From Bitchin100 DocGarden
NEWS!
Jan. 24, 2011: Happy New Year! Release 4.7 is available now for M100/T102 installs. T200 support is done, and Club100 will be offering T200 REX modules shortly (as soon as I'm done making them). This new software has some big improvements!
Nov. 10, 2010: On the 35th anniversary of the sinking of the Edmund Fitzgerald, release 4.6 for M100/T102 is made available on the web. Hmmm ... timing is everthing.
Sept 23, 2010: A few months back REX2 was finally put together for M100 and T102. It is available by custom order, please get in touch if you are interested.
Sept 23, 2010: 4.6 is out for beta testing. Let's hope this goes well. Some important fixes here, and some feature improvements. Main ROM management is supported now.
June 13, 2010: Check out the new info on what do to if you delete REXMGR.BA by mistake, posted below.
Sept. 1, 2009: Seems that Business Analyst option rom does not work in T102 for reasons unknown.
Aug. 31, 2009: I realize that it may not be clearly stated, but REX is not compatible with any other M100 system that uses LOMEM software. Programs like power dos and PCSG RAM modules that place a basic program in memory typically are in conflict with REX. My apologies if people have had problems.
Aug. 7, 2009: ROM Replacement feature is being integrated into REX Manager. Specific M100/T102 main rom images will be required, so I have removed M100.bx and T102.bx from the downloadable rom image .zip.
Aug. 5, 2009: An updated image set is online. I stupidly forgot to make Multiplan and Integrated Solutions ROMs impervious to removal detection by the M100 ROM. These 2 roms have "AB" at locations 0040 and 0041 hex. The patch is to place 00 in locations 0040 and 0041 hex. Corrected binaries are now in the file. This should only affect M100, as T102 OS looks for "TC" rather than "AB".
For Owners
Own REX, need help Getting Started?

Keep in mind the following-
For current release 4.5, do not fill REX beyond 1/2 full (12 remaining blocks must be free).
make sure you put real data into the default BACKUP entry in RAM group
if you still are using 4.5 --> upgrade!

Click on these links for information on specific software releases - release notes, update proceedure, downloads, new features descriptions etc.
Installing REX Manager in a T200
What Is REX
REX is completely plug and play flash memory upgrade. REX plugs into the Option ROM slot, with no soldering or necessity to open the laptop case.
REX gets it's name by being a cross between my other flash memory device, ReMem, and the original OPTION ROM (RAM) memory card, EXTRam.

The primary features of REX are:
REX allows for quick and easy switching between OPTION ROM images. Once the binary software images are loaded into REX, the user can easily jump back and forth between different applications. 16 OPTION ROMs may be loaded, stored and used.
REX provides the ability to backup and swap working RAM images. At the press of a key, your current RAM contents are saved in REX. Furthermore, you can reload any saved RAM image for use. This creates a library of RAM images, which has a number of uses. This offers an easy way to quickly backup all RAM to flash, or switch between multiple snapshots of RAM. This is similar to the "fast switch environments" on Remem: it is like having multiple laptops in the same case! 16 RAM images may be stored.
REX includes an interface to TPDD devices (like TPDD, NADSbox, LaddieCon etc) for loading and saving binary images to external storage.

In addition, REX is in-circuit, software reprogrammable. That means you can change, patch, or replace an Option ROM image without any special hardware or physically unplugging REX.
For advanced users, REX provides some additional features:
REX distinguishes between traditional OPTION ROM software, and alternative OS software which runs from the option rom memory location. This allows for some interesting future capabilities like CP/M or a FORTH based system.
REX also supports "Main ROM Replacement". This means that, with the addition of a single wire, the main rom on the laptop may be replaced by a version stored in REX. This allows for flash-upgradeable main ROM images, to support patches, custom Menu and character sets, LOMEM patch, Y2K patch etc.
REX may be installed in Model 100 and Tandy 102 currently. Tandy 200 support is not yet available but is in development.

REX is available exclusively through Club100.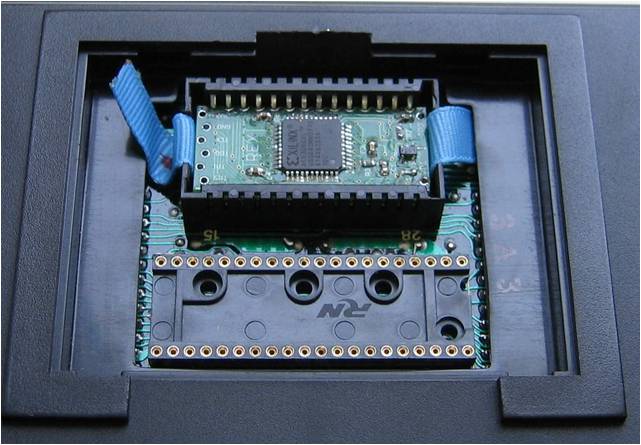 Main ROM Management Feature ***new in release 4.6***
REX2 - custom REX for CP/M support
Option ROM Images for Download
REX release 4.5 Validated OPTROM Images for M100/T102
REX release 4.6 Validated OPTROM Images for M100/T102
REX release 4.7 Validated OPTROM Images for M100/T102
REX release 4.7 Validated OPTROM Images for T200
Software Installation of the REX System- It's Easy
In order to initialize the laptop to use REX, you must install the REX system. From a cold restart, power cycle the laptop and then simply type

(for M100/T102)
CALL 63012

(for T200)
CALL 61167,2
to install the REX system, which installs one hook in the timer, includes two short programs.
first, an invisible file called RXHOOK which contains a special machine language routine that interacts with the timer hook in the laptop, to ensure that REX is properly configured on power up.
and a visible basic program called REXMGR.BA. This program contains a short embedded machine language routine that starts the REX Manager software on command.

You should see a program in the Menu called REXMGR.BA. Running this program will always start the REX Manager software.

After REX Manager is installed, issuing those same commands won't re-install the system, but you will be directed to the Active OPTROM image software instead, just like you would expect if you had a normal option ROM installed.
If the REX system should somehow become de-installed (like on a cold restart) simply re-install it by repeating these instructions.
Important Note for First Time REX Installation and Use
IMPORTANT! For brand new REX installations, where REX has been unused, the user must replace the default "backup" RAM image stored in REX, with a real backup image. Simply start REX Manager, move the cursor over the directory entry for "backup", and press <ENTER>. Select <Y> when prompted to "Refresh backup?". This puts a fresh RAM image for your specific machine into that entry.
Compatibility between REX and certain other M100 applications
REX is NOT COMPATIBLE with certain M100 software and devices, where software conflicts arise with hidden .BA programs in RAM.
Specifically,
POWER-DOS
PCSG RAM MODULES

...and other things as well I am sure, are not compatible with REX.
The incompatibility lies in the software. REX requires that a specific invisible .BA program called RXHOOK be present as the "first basic program" at the lowest memory location, making this a form of "LOWMEM software".
These incompatible applications also use LOWMEM software, and as such they overlap and will cause problems. So, you cannot use REX today with those applications.
I will look into changes I can make to allow these things to coexist, but I don't have all variants of what is possible, so it is hard for me to ensure it works with everything.
If you own a REX and you are using it with some other piece of internal memory system, in general I would say it is not compatible - it is one or the other.
If this incompatibility is causing you problems, I apologize for the lack of clarity.
Starting REX Manager if REXMGR.BA is accidentially deleted or quits working...
What to do? You accidentally delete REXMGR.BA from the menu, and now you can't start REX Manager because the active ROM is always accessed.
OR
For some strange reason, REXMGR.BA does not work as it should, and you get an error in BASIC.
In Release 4.5, the best course of action is to delete the timer hook, which de-activates the auto configuration of REX. In BASIC, type the following commands:
 POKE62975,201

Now, power cycle the laptop, enter BASIC and type
 CALL63012

and you will start REX Manager again, which will reinstall the software.
Acknowledgements
I would like to thank those that have contributed to the project:
John Hogerhuis - for all his technical support
Philip Avery - for his assistance in coding the MENU functions
Wilson Van Alst - for providing the base TPDD routines
Kenneth Pettit - for VirtualT as this project would not have happened without it
Club 100 and Rick Hanson - for helping to get this gadget out there
and others for their helpful comments and support.